Usted está aquí: Inicio > English > Guarguallá Chico / Ecuador
Guarguallá Chico / Ecuador
The center for tourism in the Guarguallá area of Ecuador is located in the commune of Guarguallá Chico, on the edge of the buffer zone to the Sangay National Park, 49km south-west of Riobamba in the province of Chimborazo.

Tourism in the commune is focused on mountain tours, trekking tours and riding tours, supplemented with community activities in the location itself.

The commune has a pleasant and inviting mountain residence, well equipped and unique in the region, the Sangay Lodge "El Quishuar", which serves as the starting point for the various touristic activities in the Sangay National Park.

Specialized guides can be hired on site, along with porters, camping equipment and horses, for tours in this spectacular National Park, one of the last primeval ecosystems in Ecuador.

The Sangay volcano (5230 metres) is one of the most active in South America; it is the symbol of the National Park. Its ongoing fumaroles and eruptions, and the unique flora and fauna, make this area a magnet for tourists and scientists alike.

The aims of the REGALO association and of the commune of Guarguallá

Offering these activities and tourist programs as a quality product requires the indigenous population to take over the operations and to apply their knowledge and experience. Education and additional training are expected, in order to strengthen the co-operation with national and international agencies.
Indígenas working with Pajagrass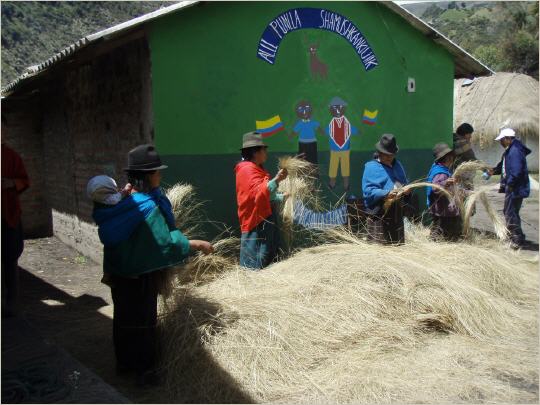 Distribution of meals
School-childen of Guarguallá
Kindergarten in Guarguallá
Cultural event